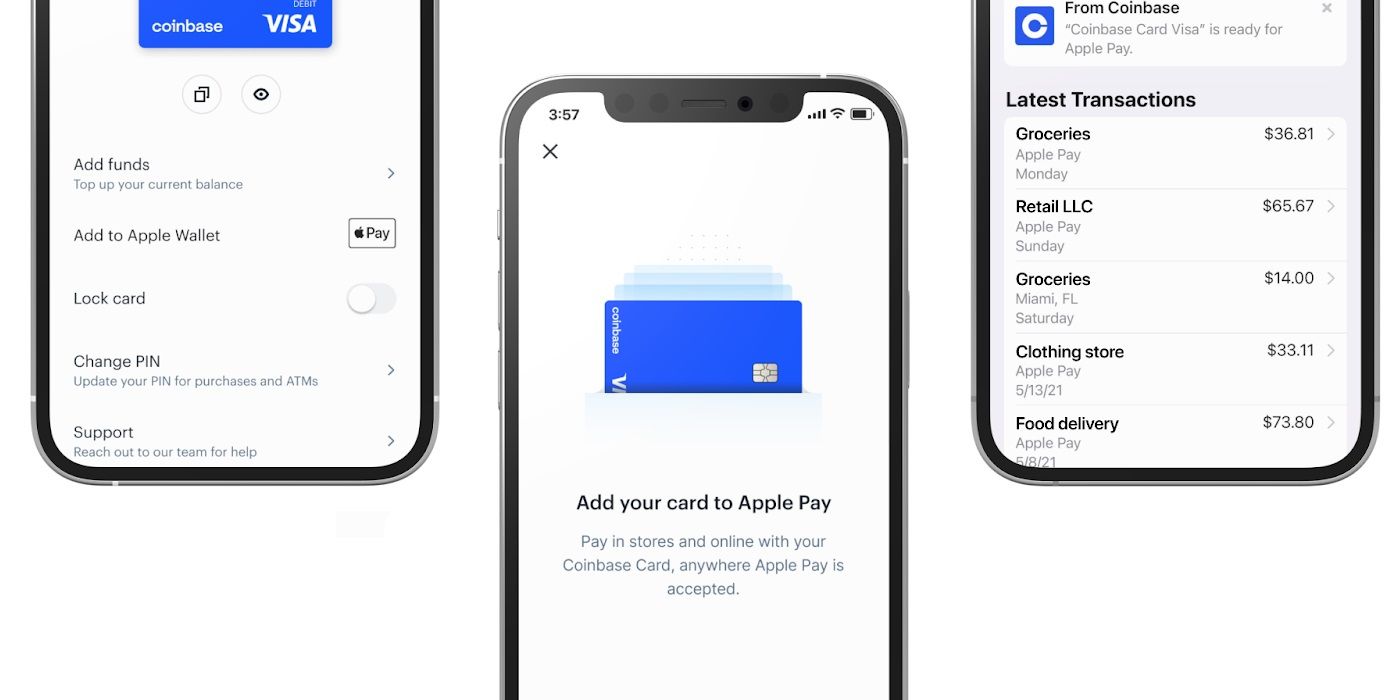 Coinbase lets users make purchases using crypto via Google Pay and Apple Wallet. Here's how it works, as well as the benefits and risks.
Coinbase lets users make purchases and withdraw money using nothing but cryptocurrency, and now the process will be a little easier for mobile users thanks to Google Pay and Apple Wallet support. Although the process makes crypto exchange more convenient for iOS and Android users, and even offers benefits like earning money back, it also comes with some potential risks at the same time. Cryptocurrency support is slowly expanding to more big-name financial services, but Coinbase isn't exactly new to the blockchain market.
The company has been operating what many consider to be one of the biggest cryptocurrency exchange platforms in the United States since 2012. While its services typically involve buying and selling of cryptocurrencies, transactions were basically limited within the platform itself, as users weren't able to use their assets to directly make purchases outside of it. With companies like Apple considering investing in cryptocurrency features, Coinbase is further accommodating mobile users by making exchanges outside the digital space more feasible and rewarding.
Related: Who Created Dogecoin & Why Is The Cryptocurrency So Popular?
In a blog post, the company announced the arrival of its Coinbase Card's iOS and Android integration. This makes owned cryptocurrencies usable for purchases on any store that accepts Visa cards, Apple Pay or Google Pay as payment methods. The card itself doesn't affect its owner's credit score, and getting one doesn't come with any application fees either. Pairing the card using iOS is pretty straightforward, as users only need to tap on the "+" sign and add the card through the Apple Wallet app, or by visiting Settings, then Manage and tapping on Add to Apple Wallet via the Coinbase app. For Android users, they can simply add the card through the Google Pay app instead. Using the Coinbase Card on Apple and Android doesn't just make spending crypto more convenient, it also comes with benefits, including earning back as much as 1-percent Bitcoin (BTC) or 4-percent Stellar Lumens (XLM) on purchases.
How To Apply For A Coinbase Card (And The Risks)
This isn't the first time people can make use of cryptocurrencies for purchases, and Coinbase's concept is quite similar to what BitPay introduced earlier in the year. For now, Coinbase is only inviting select individuals from its waitlist to become eligible cardholders. Those interested but not on the list can sign up via the website. After receiving an email invitation and completing the application, users can begin using their Coinbase Card before receiving the physical card by integrating it with either the Apple Wallet, Coinbase or Google Pay apps.
While the idea of spending digital tokens sounds promising, the volatile nature of cryptocurrencies can easily take a turn for the worse when used in real-world purchasing scenarios. It's worth noting that users aren't exactly trading the cryptocurrency itself. Instead, they are trading its current worth converted to USD, with conversion fees applied, of course. Sure, it's an enticing option that could open up more possibilities for financial freedom and flexibility, but it's still possible for cardholders to be withdrawing less cash than they ought to be, and might even be charged more in purchases, especially given how unstable the cyrptocurrency market can be.
Next: Joe Exotic's TKING Coin Launch Explained
Source: Coinbase
Why Jupiter's Legacy Was Canceled After Season 1 (& What's Next)
About The Author