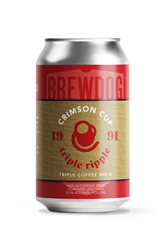 "We're excited to partner with BrewDog in this first-of-its-kind beer club, which delivers delicious nonalcoholic beers with a low carbon footprint." – Greg Ubert

COLUMBUS, Ohio (PRWEB)
June 25, 2021
Crimson Cup Coffee & Tea has partnered with BrewDog to launch Crimson Cup Triple Ripple nonalcoholic coffee stout.
The limited edition brew debuts in the June box of BrewDog & Friends, the world's most sustainable nonalcoholic beer club.
"We're excited to partner with BrewDog in this first-of-its-kind beer club, which delivers delicious nonalcoholic beers with a low carbon footprint," said Crimson Cup Founder and President Greg Ubert.
Each monthly box includes six nonalcoholic BrewDog beers and six nonalcoholic beers from the brewery's friends.
Besides Triple Ripple, the June box features BrewDog's Hazy AF and Punk AF, plus an exclusive brew from Hilltop Brewing. July will include beers from friends Pelotonia and Lamb of God.
Triple Ripple is a cold brew-style stout featuring Crimson Cup's Ethiopian Kossa Kebena coffee, added in three different ways at three different times to create a chewy body.
"Heavy-hitting waves of roasted coffee aromas with almond and dark fruit lead into a sip of sweet, creamy bliss," Ubert said.
Triple Ripple pays homage to Crimson Cup's Ripple Effect, based on its core values of achieving results, giving back and having fun.
"Every purchase contributes to the meaningful impact we create in communities around the globe," Ubert said. "For example, our Friend2Farmer program goes far beyond Fair Trade, helping to provide a better quality of life for coffee farmers, their families, and their communities.
"By focusing on good, we believe the actions we take today can impact the lives of our team, partners and communities for years and generations to come."
BrewDog said traditional beer clubs have a high carbon footprint because they receive beer from all over the U.S., only to turn around and ship it to the consumer.
As a carbon negative brewery, BrewDog set up this one-of-a-kind beer club so that it brews all the collaboration beers at its brewery. This results in low impact on the planet and super fresh beer.
Monthly BrewDog & Friends boxes are $29.99. A three-month box is $89.99. June boxes will be available through June 30.
About Crimson Cup Coffee & Tea
Columbus, Ohio coffee roaster Crimson Cup Coffee & Tea is celebrating 30 years of Coffee + Community. Since May 1991, Crimson Cup has roasted sustainably sourced craft coffee for consumers and wholesale coffee customers. It is a 2020 Good Food Award winner, 2019 Golden Bean Champion for Small Franchise/Chain Roaster and Roast magazine's 2016 Macro Roaster of the Year.
Through its 7 Steps to Success coffee franchise alternative program, the company teaches entrepreneurs to run independent coffee houses in their local communities. By developing a coffee shop business plan, entrepreneurs gain insight into how much it costs to open a coffee shop.
Crimson Cup also supports life-enriching projects through its Friend2Farmer® initiatives, promoting the education, health, sustainability and economic growth of small-plot coffee farmers and their communities.
Crimson Cup coffee is available through over 350 independent coffee houses, grocers, college and universities, restaurants and food service operations across 30 states, Guam and Bangladesh. The company also operates several Crimson Cup Coffee Houses and a new Crimson retail flagship store. To learn more, visit crimsoncup.com, or follow the company on Facebook and Instagram.

Share article on social media or email: