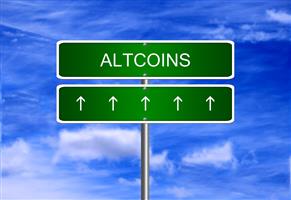 Although bitcoin is still the leader in cryptocurrencies, altcoins are surging in prominence as top ones such as Ethereum and Litecoin continue to rise to the forefront.
Altcoins are exactly what they sound like: alternative cryptocurrencies to bitcoin although they share similar characteristics. That being said, altcoins also differentiate themselves from bitcoin by providing different capabilities, including various use cases other than being a traditional currency or a store of value.
With that being said, there are over 9,000 altcoins currently in existence, which is overwhelming when it comes to deciding which ones to acquire if you are looking for something different than bitcoin.
Companies like Graph Blockchain Inc. (CSE:GBLC, OTC Pink: REGRF, Forum) are helping to make that process easier and more seamless.
The Toronto-based company is the first publicly traded blockchain company that focuses on investing in altcoins instead of Bitcoin and Ethereum. Graph Blockchain aims to shift the altcoin landscape by providing public market investors easy access and educating the market on quality altcoin projects. Additionally, through its wholly owned subsidiary, Babbage Mining Corp., the company is able to provide its investors exposure to the growing cryptocurrency market with the disruption and potential of altcoins.
The Stockhouse Editorial team recently had the opportunity to catch up with Graph Blockchain CEO Paul Haber to discuss the company's focus, some of its recent milestones, and what the company has in the pipeline that investors should be watching for.
SH: Thanks for joining us. Let's first discuss the company's recent news that it will acquire Beyond the Moon. What led Graph Blockchain to this acquisition?
PH: Beyond the Moon simplifies opportunities in crypto launchpads. By adding Beyond the Moon to our group of companies, we gain access to even earlier rounds of any upcoming token presales to add value to Graph's portfolio of altcoins.
SH: How will Beyond the Moon add to Graph Blockchain's value proposition?
PH: Early access to crypto projects is difficult to access, but the highest return on investment comes from early access to these crypto projects. Beyond the Moon manages all aspects of the launchpad opportunities.
SH: What makes investing in altcoins more attractive over bitcoin?

PH: With the eruption of decentralized finance (DeFi) and the mainstream recognition of smart contracts, the leading altcoins belong to the best projects and companies in the blockchain space. A blockchain company will issue its own cryptocurrency token and make those tokens a requirement to interrelate with their blockchain platforms. When a platform adds value and people go to use it, they will need to purchase their corresponding token, driving up the price of the token.
Adding to that, what is the company's strategy in investing in altcoins?
PH: Graph's strategy is focused on providing revenues through Proof of Stake Mining, while giving shareholders access to the highest quality projects in the crypto market. Projects that are well funded, have dedicated teams, strong community support, and the potential for significant price appreciation through increased adoption.
SH: Earlier in May, Graph Blockchain updated its altcoin portfolio. Can you discuss the additions and how they will expand the company's portfolio?
PH: The May update was in part to report on the significant gains made up to that point and to announce the addition of Tezos. Tezos is another quality project that has great potential and strong community support. This addition, along with all of the projects Graph is supporting, will continue to build a strong reputation in the crypto community with those experienced with the market and provide exposure to the best projects for those who are less familiar.
SH: With other blockchain companies out in the market, what makes Graph Blockchain's technology stand out?
PH: Graph is well cashed up and has an excellent start in building its altcoin portfolio. The company is exposed to the upside of crypto without having to spend huge money on electricity and costly servers, by using digital asset exchange that allows the company to buy, sell and trade cryptocurrencies, thus reducing costs, protecting the company assets.
SH: Can you discuss the company's interest in stepping into the decentralized finance space and how it will be a revenue generator for the company?
PH: DeFi platforms allow companies to lend or borrow funds from others, speculate on price movements on different assets using cryptocurrencies, insure against risks, and earn interest in investment accounts. DeFi uses a layered architecture and highly composable building blocks that perform financial functions on digital ledgers using blockchain.
SH: What milestones does Graph Blockchain have in the pipeline that investors should be watching for this year?
PH: Completion of the announced New World Inc. acquisition, an art-focused NFT company and continued deployment of cash in altcoins and integration of the acquisition of Beyond the Moon Inc. our new Crypto Launchpads service provider.
SH:Is there anything else you'd like to cover that I might have missed?
PH: Graph is evolving as a Decentralized Finance (DeFi) and Blockchain as a Service (BaaS) company using its strategic acquisitions to augment each other with its highly-scalable Non-Fungible Tokens (NFT) application in New World. NFT's were developed by the need to control fraud in artwork but can now be adopted in other industries as they can represent anything digital to prove ownership of virtual and tangible goods that is easily verifiable, making it impossible to duplicate. This is cutting edge new technology within emerging markets that communicate loudly to digital innovation. Over the Moon's launchpad will easily enable NFT application in New World.
FULL DISCLOSURE: This is a paid article produced by Stockhouse Publishing.